Out and About in July, 1998
On July 18th I went out to a local gay restaurant/bar, and then dancing, with some friends. The food was very good, and the company was even better. I had the pleasure of hanging with Kim, Roz, and Corrin; all wonderful ladies. In fact, here's the ladies at that restaurant... Aren't they beautiful?


As I said, after a wonderful dinner, a few drinks, and scintillating conversation, we went dancing. Before we left, we did have some other people join us, and then moved "en masse" to a local gay/whatever club to dance our little tootsies off! I did have to twist people's arms (not very hard, though ;-) to go dancing, but I think everyone had a great time once there...
This was the first time I had the pleasure of meeting my friend Kimberly Anne in person. Yes, there's another Kimberly Anne out there (I don't even hold it against her that she spells her name differently than I do ;-). I had met Kim online, through my page, and pretty much instantly her sense of humor, effusive personality, and kindness came through her emails. Since we had two Kim's corresponding, we decided my friend Kim would be Kat. Anyway, I have to say that she looks better in person than these pictures do justice to; and the same goes for Roz and Corrin as well. Speaking of pictures, here's another one for you; this one with all four of us (click on the picture to see a bigger version):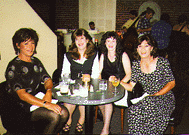 Anyway, I'd met several of Kim's friends, including Roz and Corrin, at Esprit this year. Kim told me to keep an eye out for them... and I can see why. These ladies are incredibly friendly, and have a real sense of fun. Together with Elaine (who wasn't with us that night), I've had several opportunities to chat with Roz and Corrin, and I must say it is people like this that make me happy to be a part of the TG community here in Oregon! :)
---
I also had the occasion to go out several other times in July. I visited a friend of mine in the hospital (see my July entries on the 1998 Diary Page for more details if you'd like :), and went to the hospital all 3 times "in girl mode." Now, this is a hospital where Dr. Meltzer has a lot of his SRS patients stay, so I think they're used to seeing TG people there. I did, however, also spend time at a grocery store (to buy flowers), downtown Portland, at a restaurant (to eat brunch), and generally driving around the area with the top down on my car looking as the following pictures show:


---
Home | More on Kim | Out And About | Pictures | Friends | Links | Contact Me
---
This page last updated on 11 August, 1998.

©1964-2000 Kim McNelis. All Rights Reserved (No images, text, etc. may be copied w/out Kim's consent. Thank you).