Diary Entries for 2006
---
December 31, 2006: On Hibernation (etc.)
So I was writing to a newfound friend (hiya' Ms. P! :) , and reflecting about how I present my gender to the world... I tend towards the masculine (or at least masculine presentation) most of the time (and I have a male body all the time, though sometimes I will obviously present the illusion of a female body), as it's something I can be comfortable with often enough.
So, for my 'hibernation' during these winter months (usually November to April or May; half of my year)... it's almost literally that. The feminine side of me, at least for public consumption, goes into a cave and lies dormant. I grow facial hair (it does help keep me warmer in winter ;-), and do not present as female in public. I may exhibit feminine traits, but I do not try to appear femaile in public. I may wear feminine attire at home, or even make my body appear female vs. male (again, at home), but I'm not ready to subject myself to the public's reaction of a bald man w/a mustache and goatee/beard in "women's clothes." After all, how many of us would be okay with a bald, bearded man w/chest hair in an outfit like the one at http://www.kimmcnelis.com/images/misc_favs/blue_formal.jpg? Not many of us (not even the trans ones, I suspect). I'm not ready for the threat to my safety, nor really (if I am to be honest w/myself and you) for the ridicule that would come.
I've experimented with 'Gender Queer' looks a couple of times now. In New York City for the CLAGS conference on trans politics and social change, and for a womyn's conference in Seattle. Both times were scary (for me, and probably for some other people), and thankfully I did not have any physical harassment occur. I had some mental/emotional harassment, though most of it was subtle... and to be expected. So I am beginning to push those lines, but am not ready to do so in my own city, where it's possible (or even likely) that someone who knows me and would get the word back to those I work with. The reality is that I could (and proably would) still lose my job for being a trans person; a gender 'deviant' person. Our society has a strong tendency towards rewarding normative behavior, and straying from the gender norm is still a dangerous thing to do. Of course, in many ways, TS women and men are conforming to the bi-gendered norm, and thus have less to worry about... if they 'pass' as the gender and sex they want to be, and are.
I've really tried to be the same person regardless of what gender I'm primarily presenting at the moment. That's why I've adopted the yin-yang symbol as my personal talisman; a reminder that we are all a blend of masculine and feminine, and that the masculine and feminine ebb and flow depending upon the situation and many other factors. I do not have to be one or the other, masculine or feminine, male or female, to be who I am. I am not either one or the other, I am both. Sometimes that means I'm perceived as gay (like someone I met 'en homme' who assumed that, particularly after seeing my 'pretty' wedding ring). Sometimes that means I'm greeted quizzically. Sometimes I'm treated no differently than others.
There I go rambling again... sorry about that. As you can maybe tell, I feel pretty strongly about this subject of gender, and how I'm not allowed to express it; at least not if I follow societal norms. While I'm working on my fear, and working towards and attitude of 'carpe diem', I am still mindful that I could lose my job, my step-son, or even my life (http://www.rememberingourdead.org/). So I will push the line on gender carefully, and in a way that suits me and whom I want to be...
I hope you have a wonderful New Year!
Hugs,
Kim
---
October 29, 2006: The Importance of Blogging, and Halloween...
Today is a momentous point of sorts; I've been working on this website for about 10 years (I think October 31 will be 10 years, and I decided to write this now, as I'll be unavailable on the 31st). I've been keeping visit stat's for that long, and have gone from about 35,000 visits to about 191,000 visits. So that's about 156,000 visitors in 10 years. That's a lot! In fact, that's about 15,600 visitors/year, which is about 42 visitors a day. So the Hitchiker's Guide and Deep Thought were correct; the answer (to the Ultimate Question of Life, the (Kimberley McNelis) Universe, and Everything) is 42!
Today seems much like any other day... I'm wrapped up in the busy-ness of my life, have many things waiting for me, am relaxing by doing things on my computer, etc. It's much like any other day... and yet it's nearing the end of the year, and very close to the 10th year of this diary. So it's a time for me to reflect (if I had the time. ;-)...
Today I decided to promote the importance of this Diary (web log, or blog; a website where journal entries are made in reverse order, according to the Wikipedia entry on Blogs). After all, I've been 'blogging' before it was called that; back when this was (and still is) simply an online diary of my thoughts. I've probably been blogging since about 1996. That's a looooong time, isn't it?
Today I am still 'blogging' by writing HTML code by hand. I'm using the 'TextPad' text editor to write this. I'm not using a fancy word processing program, that could generate the code for me. I guess I'm simply an old 'dog' and the new tricks don't give me the control over my entries that I want. That, or I'm too stuck in my ways to change (I've been blogging on Yahoo 360 by using their blog editor; I suppose it is easier, actually :-})
Today it seems as important as ever to capture my thoughts and share with you what's going on in a blog. A blog is an important way for me to think things out, to share w/what few friends actually stumble upon my diary to see what's going on w/me, and to perhaps feel like I maybe can leave some sort of legacy in the world. I certainly hope that my website has helped some people see that there are trans people out there... who are not going away, who are generally happy with life, and are people who are much the same as anyone else.
Today it's a strange thought to think about whether this site will stay around after I die. After all, if it doesn't get updated, I assume that Yahoo! Geocities will yank it at some point. I do have my own domain name, and could essentially pay for it in perpetuity (well, or maybe for awhile after I die), and it still needs to be hosted somewhere. I certainly hope, though, that my legacy will be in the people in my life, and how I've (hopefully) made their lives better. I hope my legacy will also be then in the people they touch, and whose lives they make better. I will never know how many ripples have been caused by the stone I've thrown in the raging river of our society and world... I can, however, hope that the ripples for the most part are a wave (however small) of positive impacts on others.
Today is the day after my partner and I went out for Halloween. We were going to go to the Portland Erotic Ball, and because we got a pretty late start, had a hard time finding parking, and the expense of only spending an hour or two there, we instead ended up at Ember's Avenue (which has no website, so the link will take you to the entry on 10best.com ;-). We had a great time! Even though we got there around 11:00 pm, the main crowd hadn't arrived yet, so we found chairs where we could people-watch (one of our favorite sports ;-), were able to dance on the floor before it got too packed, and I got my fill of both dancing and seeing and being seen (I even danced in the cage briefly to a Madonna song, though it wasn't my most inspired dancing of the evening). I didn't think I was going to get to 'do' Halloween, as we have our son and he doesn't know about my crossdressing (by our choice; we figure he's not ready, nor are some of my in-laws or direct family). He, however, was at a friends for a sleepover, so we could go out! Yay! :)
Today is the first day of the rest of my life... and of your life (if you're not me, or even if you are me being talked to later by me ;-). So remember to "Carpe Diem!" or Sieze the Day! (No, it doesn't mean to give us our daily fish ;-). Today is like any other day; it will be, for the most part, what you want to make of it. You have a choice of what you do, and the priorities you set for things. May it be a good day. :)
Love,
Kim
p.s.: From my "What's New" section on my main page... last night (and this morning) My partner and I went out for Halloween; it was fun! We went to the Embers Avenue... I was a 50's girl (well, sort of) in a poodle skirt. I've shown a pic below. [Oh, I've also cleaned things up a bit; some of my "What's New" entries are now integrated into my diary (aka Blog)].



---
October 1, 2006: Please do take my quiz/poll
Please do take my quiz/poll, available by clicking here (quiz.html here on my main site), if you have the time and interest. I appreciate the few of you that have taken the quiz already! (Please note I've updated it to allow email or website if you'd like to give me your contact information when you answer the quiz... :)
---
September 16, 2006: On Multiple Homes (and Personalities) on the Web
So I have multiple homes on the Web. It's kind of strange, really. This diary that I've been hacking together directly in HTML since I taught myself back in 1996 or so. How much the web has changed in the 10 short years since it really began to be a widely-available thing. I'm old enough to remember newsgroups or UseNet, and email being an unusual thing to have; let alone connecting w/others on the Internet. So, anyway, I guess I'm simply saying how old I am, and what a geek I am, so I'll move on... :)
I've alluded to the some of the various sites I have on the web, or maybe even made links before. With my website (this site), and my Yahoo 360 page, and my myspace page, and (my male page, and)... I have too many places to be 'me'. I have been tempted to link them together...
Of course, on 360 and myspace I get to simply be a woman and not a transgendered woman. This, my homepage and diary, is more about being a transwoman, I guess. Sometimes it's about the contents of my head indpendent of being Trans. More often, however, it's something about being trans in the world that makes me write in here. In general, this site is about being totally 'out there' about being a transgendered person. Gender Queer, TransGendered Woman, CrossDresser (Transvestite), a little bit of TransSexual, whatever... Of being open, direct, and proud of being a CrossDresser. Of being "Trans" or "GenderQueer".
I do, however, want to see how people treat me as a woman; simply being a woman, vs. a trans-woman... I want that chance on Yahoo 360 or even myspace to simply be a woman. To express the feminine as literally as I can; to get into the mental state (emotional and other mental processes) of being a woman. To try to have empathy for women. It has nothing to do with looking like a woman; I'm not dressed as a woman as I write this, nor many times I'm online being a woman. It's about the many, many other things that make a person a woman.
Which is kinda' strange, I realize, as I'm not a woman 24x7. I don't get to claim that I'm 'really' a woman, I suppose... (I'll spare you the philosophical talk about what makes a woman, at least for now ;-). However, there's a part of me that is a woman, wants to be a woman, and enjoys expressing that. I've simply realized that it's not 24x7; it's actually much less than that. I am happy to be a man too; there are certainly parts of my psyche (and much of my body ;-) that are male and masculine...
I don't want to be disingenuous about being a woman; I'm not trying to lie to people. I have done my best to never say anything that is too gender-specific in my online life as a woman; to be truthful about who I am, what I've done, my perspective, without directly saying "I am a woman." After all, some people would disagree that I am a woman. They would accuse me of lying by simply having a female avatar. However, I the pictures I post are of me. The name I use is my given name. So, while I might even agree that I am not a woman in some contexts-- or the most literal or technical sense of the word-- I am a woman in many important ways.
So I am a woman in many regards. When I am online and presenting as a woman (vs. a transwoman), I am doing my best to be a woman. I certainly can relate to the experience of being a woman. When I am out dressed (cross-dressed) "In Real Life" (IRL), I have been dressed as a woman and treated like a woman. I have been treated in both the good and bad ways that can women can be treated. In fact, I've been treated worse than many women have been. I've been spat upon, laughed at, looked down upon,... because of who I am. Most women don't experience hate for simply being women (though I realize some do), yet I've experience hate for simply being who I am. I have, however, also been treated with kindness, compassion, respect, or even welcome indifference. I am grateful for the people in this world who can at least tolerate who I am, if not accept me. I love many of the people who accept me for who I am, and love me for who I am.
So, as usual, I've turned a relatively simple topic into a treatise on my existence as a transwoman in this world. Sorry if I went on a rant there.
You know, I don't think I'll link to my Yahoo 360 page yet; I want to enjoy simply being a woman there for awhile (and my friends tend to know where my 360 page is or not to 'expose' me)...
Then again, I'd forgotten that in some of my early answers on Y!A that I'd said directly I'm a transwoman. I'm not going to edit those out either; it is whom I am. However, I'm not going to go pointing it out nor emphasizing it either... Again, I simply want to enjoy being a woman.
Love, Kim
p.s.: ... and a picture from 1st Thursday of this month (the galleries stay open late):

---
September 11, 2006: On the 5th Anniversary of the Attacks of September 11, 2001
I posted the following on my blog on Yahoo 360... repeated here:
I will try to keep this short and sweet... though that will be hard w/something as emotional (to me, at least) as the September 11 attacks in the USA.
Anyway, one of the Yahoo Answers (YA) staff/bloggers mentioned 'we all' remember where we were that moment when it happened. I'm not sure we do; YA is international, and it might be that several of us don't.
However, if we do remember the morning of September 11, 2001 and where we were, what we were doing, how we found out about the attacks (as I do), I think it will certainly be a defining moment for those of us in the USA; when terrorism 'over there' became terrorism 'at home'. No longer was it only Isreal facing constant bombings, or tourists kidnapped on vacation, or those in Rwanda facing genocide, or etc. (sadly, the list goes on).
Which brings me to my next point. The question was also posed whether 9/11 should become a national holiday. No, I don't think so. Not yet at least. There are so many other horrific things that take more lives. Heart disease, cancer, car accidents, hunger... to name a few. These are preventable killers, as we hope terrorism is preventable. Do we take a day to focus on those killers, that have killed (and will kill) far more people than any terrorist event can? No, we do not. Let's not lose perspective here; we have many other problems that kill far more people.
Now, what I say next may turn some politically conservative types off. However, this blog is about my opinion. I may try to stick to facts sometimes, and sometimes I don't have substantiation; it's my opinion. Having said that... I think the memory of 9/11 is still too fresh, at least partially because the pain is still being too manipulated and refreshed by a political party trying to rule the USA with fear of the unknown. The republicans have been running on a platform of 'be afraid' and 'we will keep you safe.' The fact is, however, that we have invaded a country (Iraq) that had nothing to do with the attacks of 9/11, was not harboring or aiding Bin Laden, and sure as heck had no Weapons of Mass Destruction (WMD's). We did a 'preemptive war.' What the he** is that?! An excuse to do nation-building, an excuse to finish the job that W's daddy (Bush Senior) didn't finish, and a chance to grab some oil production. That's what this war is about.
What bothers me most is the cost of the war in Iraq. The human cost; tens of thousands of LIVES LOST (not only over 2,000 U.S. soldiers; we're talking tens of thousands of Iraq citizens). If you don't care about that, how about the HUNDREDS OF BILLIONS OF DOLLARS?! (Yes, I'm YELLING! I'm mad as he** about this!) What I don't get is how a political party (the Republicans) that is supposedly about fiscal conservatism is happy about spending over $300 Billion on the Iraq war?! Do you know what kind of good in the world can be done w/that much money? Home and abroad? [In my best 'Marvin the Martian' voice: Oooooh, that makes me so angry.]
I am tired of the loss of lives of 9/11 being used to justify the loss of even more lives. I am tired of the attacks of 9/11 being used for political gain. Let's remember those attacks for what they were: Orchestrated by a monster, misrepresenting a faith-based reason for attack, and a sad event to be deplored.
Peace be with you.
---
August 23, 2006: Some pictures
Some pictures that have been sitting around for almost a year (Me in 2006 in the last couple of months or so, and me at Halloween 2005) [These should look a lot like what's on my Yahoo 360 profile... :)]: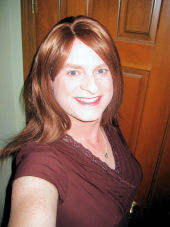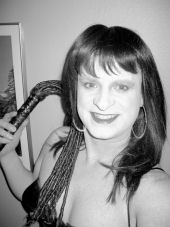 ---
August 20, 2006: Addiction (to Yahoo! Answers)
So I was up until 5 am this morning, answering (and reading) questions on Yahoo answers. The questions, and my answers, ranged all over the map. Now that I have enough points to enable voting, I can vote up the thoughtful, kind, good answers & vote down the hateful, hurried, irrelevant ones. It's nice. It's also, I think, probably an obession that's mostly a waste of time. Sometimes I think that my considered answers (well, for the most part I put a lot of thought into them) aren't appreciated by the audience, and Answers is very quickly turning into a 'chat' board overrun by people who want to game for points and chat instead of answer questions from those really seeking. That said, I have seen some really good answers, and thoughtful questions. I have also had the honor of my answer being picked as best by some people...
Since this is my femme site (yes, I have a masculine/homme site too), I'd like to post a recent question that my answer was chosen best as; because I think I did a pretty good job of boiling down some relevant points, and being fair... (if I do say so myself ;-).

Q: Sex changes? [Why do some men feel the need to have thier bodies changed in order to look and act like a women. If i were to cut of my arm or my leg that wouldnt make me any less of a man so why do they think that cutting off thier genatailia will change them. They were born men and will be men no matter how they try to hide it. I am not trying to be rude or obnoxious i am just trying to undestand. (tau165)]

A: A Male-To-Female (MTF) transsexual (TS) may want (and need) to change her body to look more like a woman so that she can be accepted by our society as a woman. TS's do not want to be seen as men, they want to be seen as women.
FYI, transsexuals do not cut off their genitalia, they re-arrange it. If you cut off a limb, you are a man w/out a limb. If you have a face lift, a tummy tuck, nose job, etc. you are a man who's had cosmetic surgery. If an MTF woman, who sees herself as a woman and wants to be treated as such, has cosmetic surgery to look more like a woman (breast implants, GRS/SRS, etc.) then she is a woman who has had cosmetic surgery.
MTF TS's are not trying to 'hide' being men, they're using surgery to have the appearance of the gender and sex characteristics that match their personality and perhaps their soul. They are wanting to have their bodies match their minds.
Gender is a societally-assigned thing; sex (biology) is a little clearer-cut. However, I'd like to point out that there are intersexed people that you'd consider women, and were born that way and still have chromosomes that are more like men's or somewhere in-between. It's not so clear and easy, even biologically, to determine what a man or woman is; let alone what a 'male' or 'female' gendered person is.
Finally, if a TS woman looks like a woman, acts like a woman, lives as a woman, then hopefully whether you think she's a man or not shouldn't be a big deal. Give her the respect you would give any person; she's simply trying to be herself.
If you're really trying to understand, then I hope you will be open to my answers above.
[Comment back, and a 4 of 5 star & best answer rating: Thanks for you time and understanding.]
---
July 28, 2006: Life, The Universe, and Everything...
I'm in a philosophical mood... and a pretty good mood, actually. My partner and I watched "The Hitchhiker's Guide to the Galaxy" this evening. I really enjoyed the movie; even the 2nd time around. Life is an interesting, wonderous journey...
My other new hobby/obsession is Yahoo Answers. I've been answering questions... and asking some.
I think you'll find some insights about me, what I think, my opinions, and how I respond to a stranger's question w/the following questions and answers...

My Question #1 on Yahoo Answers: Do abbreviations (txt msg spk) and bad spelling make Yahoo answers less readable?
At least one answer to every question here on Yahoo Answers that I've read so far has text messaging abbreviations, bad spelling, poor grammar, lack of punctuation, run-on sentences (like this one ;-), a combination of all of the preceding maladies, or some other characteristic that I find hard to read. Do you think it makes these answers unreadable or at least harder to read?
[Personally, I cannot wait for speech recognition software to become ubiquitous (it works well now) so that no one has to type on those tiny little 'keyboards' on phones, no typing and thus no more typographical errors, etcetera. I know this may be a bit 'Pollyanna' of me, and I do have high hopes for speech recognition and translation software.]


My Question #2 on Yahoo Answers: Why do parents of kids who use 'gay' inappropriately say nothing when their kid says it?
It seems to be popular to use 'gay' as an insult. "That's so gay." "He's so gay" "They're so gay". I've heard kids who seem to have no real idea what that is use this expression. I've also heard kids who don't really believe being gay is bad use the expression.
Do the parents do nothing because they agree that being 'gay' (homosexual) is bad, so they support this kind of talk? [I don't, FYI] Is it because they don't have any idea how to give an age-appropriate response & point out what the kid is saying and doing?
Some of the Questions that I've answered from Yahoo Answers



Q: What to do about being transgender? [I am a trans person. Not out to anyone except my therapist. I'm 32 years old and have recently realized I'm trans. I have 2 kids (9 and 3) and am a school teacher. It's really hard to decide if I should life like this (no surgery/hormone) or to transistion to becomnig who I feel I am inside... (etc.) (Yimmy)]

A: I think you can do many things; the most important is to educate yourself more about the topic before taking any action that will drastically impact your life.

Some areas to research:

1. The Web. In particular:
- http://www.IFGE.org The International Foundation for Gender Education. This is one of the main gender-related sites; lots of good links, etc
- http://www.Gender.Org (GEA/Aegis)
- Anne Lawrence's Info for TS Women (www.annelawrence.com) Anne is an MD who runs one of the most medically complete resources for TS women that I know of...
- TransGender Information on Yahoo! (http://dir.yahoo.com/society_and_culture...

2. Books. In particular, books I like or others that I know and trust like:
- My Husband Betty (for more information for you, particularly in the beginning chapters, impacts on your spouse, etc.)
- She's Not There

To give you my opinion ('answer') on some of your direct questions and statements:
- Yes, it's OK to NOT transition, if that's the best course for you. It is also OK to transition. Again, what is it that YOU NEED? (Not necessarily want, but NEED). Going on hormones and surgery is not to be taken lightly. If you need to present to the world as a gender opposite what you present now, you can also do that w/out hormones and surgery; though perhaps not as convincingly.
- Yes, it is a really hard decision. I struggled with it most of my life. Once I decided, it was very liberating... and my deciding was not a panacea; I still struggle w/being trans. [I did not transition, though, because I decided I am a crossdresser vs. transsexual].
- If you want to head towards surgery, as you probably know, you need to do "Real Life Test". This is likely to lose you your job, possibly your children, almost certainly some friends, etc. If you cannot take that possibility, you may not be ready. It's not something easily tried; clear up your thinking, base it on your research, and then make a decision.
- Please try to lose the shame. It doesn't help anyone. Take the energy you spend feeling shame and direct it to educating yourself and working towards a decision.

Finally, if your therapist is trans, it's possible that the therapist has a bias; they are human after all. they could be giving you very good advice that clearly reflects what you're saying. They also could be interjecting some of their bias, consciously or not. Perhaps seek a second opinion from another therapist; preferably one who knows about trans issues, has counseled trans people, and is not themselves trans. This is no guarantee of better therapy nor even a lack of bias; however, there is some implicit conflict of interest in a trans therapist telling you that you are trans (vs. reflecting back to you the statements you make that indicate you are trans). Your therapist should support you seeking out other information and opinions (I assume 'he' is FTM trans? Otherwise, it would have been correct to say 'she' if your therapist is MTF and presents as femme in your sessions).

Source(s):

I am trans. If you want to know more about me, how I'm trans, visit http://www.kimmcnelis.com




Q: Should I tip a waitress who was rude to me? (kathy1000)

A: Rude how? The waitress (server) may not have been aware it was taken as rude; or it may be really clear they were being mean (only once in my life has this happened). They could be having a bad day (a really rude customer a few tables over, be short-staffed, etc.) they could be not liking their job and taking it out on you, or any number of reasons.

Let the server know that you found the behavior unacceptable; give them a chance to respond. If they are not apologetic, or perhaps even if you don't feel comfortable speaking to the server, then leave a 5% tip (or no tip if you feel that's necessary or appropriate) and speak to the manager about the issue. If the manager is not understanding, and it's a chain restaurant, indicate you'll talk to the head office and actually do so.

In resonse to some other answers here, being rude back is *not* a polite (nor good, in my opinion) response. Being mean simply breeds meanness. Also, leaving no tip at all, the server may think you forgot, or had no extra change and were too lazy to get change.

Also, how was the service overall? Did you receive the correct food? Were any extra requests handled? In general, a tip (in the USA at least) is considered a 'thank you' for good service. The better the service, the more the tip; the worse the service, less of a tip. the general guideline is 10-20% of the total bill, before discounts.

Finally, please be aware that it is legal for restaurants to pay less than minimum wage to servers, expecting that it will be made up in tips. In addition, most servers have to pay a percentage of their receipts (how much a customer paid) regardless of the tip left. So leaving no tip at all in the USA has a big impact on a server. I would encourage you to leave at least 10% if the service was acceptable; consider it part of the cost of the meal. Certainly leave more than 10% if you received good to exceptional service.

Source(s):

My friends have been servers (I have not been), I eat at a lot of restaurants (travel for my work), I have traveled to other countries w/different customs, etc. [I have not been schooled in formal etiquette, however]




Q: Is Jesus God or a prophet? [Did he say in the bible that he was God? If he did provide one single verse. (Posted by 'Andal')]

A: I think it depends upon your faith; or lacking faith, your point of view.

As to your further question... I don't know the Bible, so I cannot say. What little I know indirectly of the Bible, I think somewhere it says God is in every one of us. If 'God is love', then there must be love in every one of us. Let's all work to find that love. :)




Q: Who loves us more, Jesus or Satan? [Jesus supposedly gave up his life for sins which we didn't commit yet (since we didn't even exist back then)..and Satan gives us riches and beautiful things in exchange for our souls. Who is more loving? (Posted by 'Pinkcubus')]

A: Assuming one believes in Jesus & Satan (and that Satan takes one to Hell to torture/imprison your soul, wheras Jesus takes one to Heaven to hang out), I think the question comes to whether you think Heaven or Hell is a better place.

Given what I know of love (no definition has yet been written that I think is definitive ;-), the entity that would want you to reach your best possible state of being would be the one that loves you more. So which state of being do you want, Heaven or Hell?

It's only short-term thinking (which the citizens of the U.S.A. seem to be really good at) to want to trade your immortal soul for anything in this one mortal life. Satan offers this option... does Jesus? After all, at least some followers of Jesus say you have to believe in Him to get to Heaven, and you're trading any other belief in a God in this one mortal life to get to Heaven through Jesus.

[For the record... I personally believe I'd pick Heaven, given what I have been told of Hell (or at least given the concept of Hell); it would better match who I am. Now, whether I have to believe that Jesus is the Son of God and the ONLY way to get to Heaven or not is another matter, and a question you didn't ask... ;-)]




Q: How do you have sex? (Posted by 'Bob H')

A: Any way that feels good, between consenting adults (or by oneself)... (and with the knowledge that much of the enjoyment of sex is 'between the ears' or in the brain)

Source(s): My source? Me. My partners whom have mostly indirectly helped me form my opinion through time. My Society that I live in.
---
July 19, 2006: My one-year anniversary!
I am still ever soooo happy to be married to my partner! We went out to celebrate by watching Hapa (Hapa's Website) on the concert lawn at the zoo... and seeing the cute animals, of course. :) It was a wonderful day; sunny, warm, lots of nice people, good music... and a picnic dinner made by my sweetie. Here's a picture of me before going out, so you know what I look like now (since it's been a year or so since I posted one):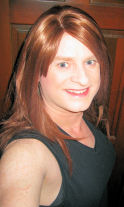 ---
June 6, 2006: 525,600
My partner and I finished watching "Rent" a few moments ago. We saw it on Broadway close to 5 years ago; it was fantastic. We saw it on film tonight for the first time; ditto. Soooo... there are 500-25-Thousand-600 minutes in a year. One of the main songs says that (it's true! :), and asks how you measure a year in the life. How do you measure a year in the life? By the minute? By the second; all 31,536,000 of them? [By nanoseconds (a measure of time a computer thinks in); all 31,536,000,000,000,000 of them?] How easily those 525,600 minutes, or 31,536,000 seconds fly by. How many of us truly live in the moment, enjoying each second, or each minute of life? Life is short. Carpe Diem!
---
May 25, 2006: Quizzes Galore!
The poll I started in April apparently works for everyone except me... Why does technology have to be sooooo complicated or strange sometimes? Anyway, you can go ahead and take my poll (quiz) if you want. Oh, I've also posted results of some quizzes I've taken on my More on Kim (Miscellany) page.
---
May 13, 2006: Human Rights for All People (vs. simply men & women)
I recently received a request to sign and/or promote a petition to change "men and women" to "all people" in the U.N.'s declaration on human rights. Makes sense to me, so I signed it & linked to it.
While you may think it's 'splitting hairs' to insist on language that isn't gender-specific, I'd like to point out a couple of things. First of all, what does it hurt to move to "all people"? Secondly, "men and women" really is exclusionary.
Also, the current language reinforces the gender binary, and implies that we all have to present a clear gender or biological-sex characteristic to be identified as either male or female. I am both feminine and masculine. Even though I may simply have XY chromosomes, there are those wonderful individuals that even biological sex isn't so simple to determine. Intersexed people have characteristics of both sexes; they are neither strictly man nor woman, and that's a fine thing. They should be included in the statement on human rights. So should someone who's androgynous in gender, and isn't so easy to pick out as a man or woman. So I encourage you to sign the petition as well; you may do so anonymously, where even the sponsor of the petition will not know your email address. Please click on the link/graphic below:


---
April 16, 2006: Thoughts on Gender, Writing, Life, The Universe, and Everything
Spring cleaning time! I re-arranged my site some. Anyway, given the title above for this entry, you know this will be a short entry 'cause there's no way I can cover it all without summing up. Actually, the "Life, The Universe, and Everything" is a play on "The HitchHiker's Guide to the Galaxy", and on the fact that this is called Kim's Transgender Universe. I'm coming up on the 10-year anniversary of my site, and it hasn't really changed fundamentally in all that time. I'm contemplating what sort of changes could be made... Do you have any thoughts you'd like to share w/me? If so, Please send me a (respectful) email. Thanks!. I'm also known to ponder life and everything here, so it seemed appropriate.
One of the things encouraging me to write is Holly Boswell's article The Transgender Alternative. My partner emailed it to me, and I read it today. It's interesting that I pretty much came to a lot of the same conclusions about a spectrum of gender possibilities, etc. on my own; and Holly had already written a thorough, insightful, good essay on the subject.
[Some time passes...]
Well, here it is May of 2006 and I have no idea how I was going to finish the thoughts above about Holly's article. Let's simply say I encourage you to read it, and/or my thoughts, and do some thinking of your own. You may even want to check out wikipedia to look up some of the terms or thoughts...
---
February 28, 2006: I saw "Transamerica" a little while ago...
February 28, 2006: I saw "Transamerica" a little while ago, and Dolly Parton's song struck me (in a good way :). Here's an excerpt from the song from the February 17, 2006 USA Today article on the Oscars and songs:

Well I can't tell you where I'm going,
	I'm not sure of where I've been
But I know I must keep travelin'
	till my road comes to an end
I'm out here on my journey,
	trying to make the most of it
I'm a puzzle,
	I must figure out where
	all my pieces fit
Like a poor wayfaring stranger
	that they speak about in song
I'm just a weary pilgrim
	trying to find what feels like home
Where that is no one can tell me,
	am I doomed to ever roam
I'm just travelin', travelin', travelin',
	I'm just travelin' on

---
More Diary Left...
Please see my Diary for 2005 for more diary entries.
---
Home | More on Kim | Kim's Blog (Diary) | Out And About | Pictures | Friends | Links | Contact Me
---
©1964-2006 Kim McNelis. All Rights Reserved (No images, text, etc. may be copied w/out Kim's consent. Thank you).