Kim's Southern Comfort Conference '99 Picture Page
Here's some of my favorite pictures from the 1999 Southern Comfort Conference. It was my first time at the conference, and I had a really good time! There were so many people there! I've received permission to post the pictures of some of the wonderful people I met or saw again at SCC... :)


---
Pictures from Saturday...
While I arrived Friday evening into Atlanta, I didn't get to go out en femme until Saturday... and don't have any pictures of me en drab (funny how that is ;-)...
The first picture is of my Sensous Sister Sara... we had lots of fun, and good soulful talks at the conference. Love ya', girlfriend...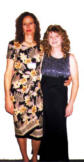 The next few pictures are some of the wonderful people I met at SCC... mostly acquaintances of Sara's. The first picture is of Debbie and Debbie... kind, fun folk. I'll let you figure out who's who (Gosh... this would happen if I married a Kim ;-). The next picture is of Kelly, a fine Southern Belle for the conference, and otherwise a soul finding her own way in life.





The third picture here from Saturday is of Mariette, a woman who's taken pictures, and been a part, of the TG community for a long time. I'm pleased to have seen her again at SCC, and glad she brings her acceptance, energy, and talent to these events.



Sooooo... that's a few of the people I saw and met. There were others, and I wish I'd had my camera ready, time to scan more pictures, get more approvals to post, etc. In any case, I guess the message for Saturday and connecting with so many other TG people is that I'm always happy to find so many intelligent, fun people in the TG community... seems like they're everywhere I go...
---
...and Sunday

The Atlanta Botanical Gardens, looking back South towards the city...


---
Home | More on Kim | Out And About | Pictures | Friends | Links | Contact Me
---
This page last updated on 08 November, 1999.

©1964-2001 Kim McNelis. All Rights Reserved (No images, text, etc. may be copied w/out Kim's consent. Thank you).