Lilith Fair
Introduction
What is (was) Lilith Fair? A celebration of women in music as envisioned by Sarah McLachlan. The first tour took place in July and August of 1997 throughout the United States and Canada. There was a second in 1998, and a 3rd and final tour in 1999. I loved all 3 Lilith Fairs! I love most, if not all, the performers. It was an awesome experience. I had the pleasure of going to one of the Fair's "en femme." The others I went w/girlfriends, and/or friends.
I loved Lilith Fair enough that, when some Steve Madden "Tori" shoes (as in Tori Amos, who helped design them :) came up for charity auction, I had to have them! The money benefitted RAINN (Rape Abuse and Incest National Network) , America's only national hotline for victims of sexual assault. RAINN provides free, confidential help, 24 hours a day. (I have a friend who is/was a victim of incest. Grrrrr!). What a wonderful chance to donate my money, and receive something special (besides the warm fuzzy feelings) in return. A win-win-win situation... :)
Lilith Fair 1997
I went w/a girlfriend to The First Lilith Fair (1997) ; thank goodness she knew about it and told me! We went to Salem, Oregon ... a nice, intimate venue! Wow... what a time!
There were around 10,000 people there, and the energy was high! The only real problem came in a sad lack of women's restrooms! The women starting storming the men's restrooms too... You go girls! I overheard some guy saying he couldn't stand at a urinal and pee w/women watching. Sheesh... what a wanker. The other lowlight was a woman who came and stood in front of us, when my girlfriend couldn't stand due to a broken ankle... man, so much testosterone and hate when I asked her to please sit.
Anyway, highlights of the day included:


Jewel saying Alaskans and Oregonians share a special bond (no, she didn't say the same thing at the Gorge about people from Washington :). Heck, it was almost as much fun debating whether she was wearing falsies or had augmentation... she was suddenly more endowed (and my girlfriend and I enjoyed that immensely ;-).
Perhaps the most magical moment for me was when Suzanne Vega got the entire crowed going in an acapella version of... ummnnn... that song where she's in a diner watching people... Ummnnn... "Tom's Diner." Dang, my memory's going.
Paula Cole. Oh my oh my oh my. What an incredible talent, and an incredible performance! I was sooo moved, and have loved "This Fire" ever since.
Tracy Chapman was rockin' on the digiredoo... and, of course,...
Sarah was awesome!
What a show!!
Lilith Fair 1998
I went to Lilith Fair 1998 at the Gorge Amphitheater in George, Washington . What a beautiful site, day, and bunch of people to hang out with. I even saw a friend there!
Lilith Fair 1999
Well, Lilith Fair 1999 definately got bigger, badder, more commercial, more wonderful, and more crazy! It was a full-fledged event that everyone knew about, and since it was the last tour-- it was a zoo. A fun zoo, yet a zoo regardless.
I went to this Lilith Fair w/my best friend and her kids... what a great time! The artists that I saw in Portland, Oregon (where I attended the concert), were: Sarah McLachlan, Sheryl Crow, Sixpence None the Richer, Liz Phair, Mya, and Sandra Bernhard. I think. :)
Here's a little map of the locations for Lilith Fair '99 (taken from the official site, listed below):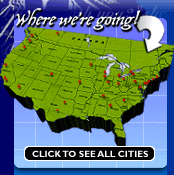 Lilith Fair Signed Shoes

So here's more about those shoes that I won at auction. Again, the money benefitted RAINN (Rape Abuse and Incest National Network America's only national hotline for victims of sexual assault. RAINN provides free, confidential help, 24 hours a day.
Anyway, the shoes are Signed 'Steve Madden' Platform "Tori Shoe" (Both Heels Signed in Marker by Aimee Mann, Sheryl Crow, Sarah McLachlan and Meshell Ndegeocello; Signed During Lilith Fair Tour; "Tori Shoe" Designed by Madden and Amos; Burgundy; High-Heeled Platforms; 5-1/2" Heel; Size 9B)
---
Lilith Fair Sites
Information on the overall Lilith fair for:
---
Home | More on Kim | Out And About | Pictures | Friends | Links | Contact Me
---
This page last updated on 20 July, 2001.

©1964-2001 Kim McNelis. All Rights Reserved (No images, text, etc. may be copied w/out Kim's consent. Thank you).